STRAIGHT TEETH FOR A WINNING SMILE
Orthodontics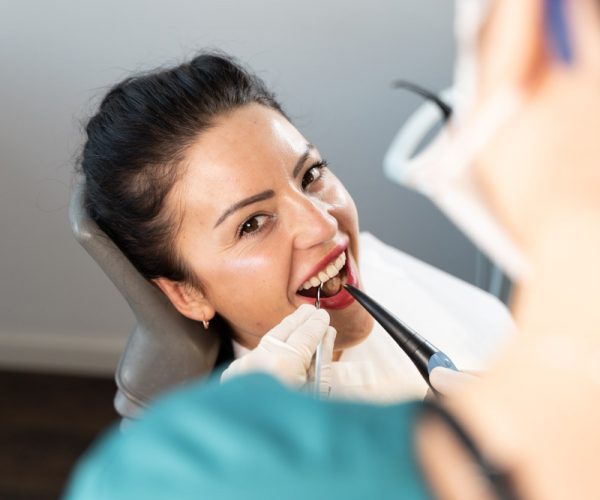 Do you want beautiful, straight teeth and a captivating smile? With the invisible dental splint you can have your teeth straightened even as an adult. In a short time discreetly and with visible success with your orthodontist in Berlin Mitte.
The HarmonieSchiene ®, a unique dental splint for adults, is invisible and flexible. It is comfortable to wear and can be removed at any time. This makes the HarmonieSchiene ® ideal for all those who value discreet tooth correction. This only takes a few weeks, during which no one notices that the invisible dental splint gently pushes your teeth into a straight position.
The result - your new attractive smile - will be all the more noticeable! Find out more from our cooperation partner Orthos Fachlabor für Kieferorthopädie under Fachgebiete/HarmonieSchiene®.
Placeholders and children's dentures - if a tooth is lost prematurely after all
Some people may think that milk teeth are not that important because they will fall out at some point anyway. The opposite is true. Baby teeth in particular fulfil an important space-keeping function by filling the space where the permanent teeth will come in later. The premature loss of just one milk cheek tooth can already disrupt the function and development of the entire chewing apparatus and the permanent teeth.
There are space maintainers that can be removed by you or your child and those that are firmly cemented in place. Whether a fixed or removable space maintainer is preferable must be decided on a case-by-case basis. Often, time-consuming and, above all, expensive orthodontic treatment can be avoided by using space maintainers.
Sports splint (occlusal splint) from the orthodontist in Berlin Mitte
You are active in sports and like to play hockey, handball or do any other kind of sport? - full commitment is only possible if your teeth also enjoy the right protection. Even a slight blow or a fall can seriously damage the jaw and teeth. Sports accidents are a common reason for artificial dentures. Damage that is usually very costly.
The sports mouthguard is optimally fitted in the oral cavity. Whether transparent or coloured, we will adapt to your wishes and the individual sports.